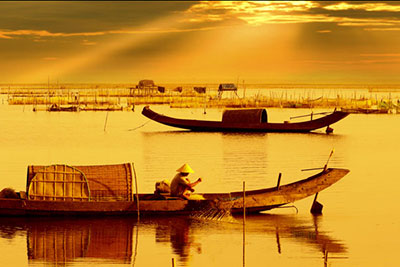 Hue was the capital of Vietnam from 1802 until 1945, and the historical sites of the city reflect this - if you're a history buff then Hue is a fascinating stop-over, famous for its UNESCO World Heritage site Citadel.
Its position in central Vietnam means it is perfect to combine a day or two here with a longer stay in nearby Hoi An, or go north from here to the amazing caves of Phong Nha.
What to do in Hue?
The old Imperial Citadel is a sprawling complex of palaces, temples and museums which is well worth spending a few hours wandering around. You can even pay a couple of dollars to have your photo taken dressed as a Nguyen Emperor!
A boat trip on the perfume river allows you to take in a few of the well preserved tombs of the Nguyen Emperors which are scattered down the banks of the river, as well as the Thien Mu Pagoda.
Hue has its own take on some well known Vietnamese dishes - try the Bún bò Huế, a noodle soup with a lemon grass-spicy kick.
If you're interested in the American War, there are day trips to the DMZ (Demilitarized Zone) around 70 kilometers to the north, taking in war sites such as the former US Khe Sanh base and the Vinh Moc tunnels.
New Hue to Hoi An limousine bus!
We now have a frequent, fast and comfortable limousine bus service between Hoi An and Hue. The bus operates four times a day in both directions, using 9 or 11 seater comfortable limousine buses with reclining seats and USB chargers for your phone. The journey takes around 3 hours.
If you want to take in the famous Hai Van pass as part of this journey, you will need to take a private taxi. You can book either a 7 or 12 seater taxi, or the Hue->Hoi An limousine bus below - just click on the book button shown next to each travel option.
For the budget option, we also offer a comfortable 35 berth sleeper bus, operating once a day between Hoi and and Hue.
As with all bookings on Vietnam Bus Tickets, instant booking and payment is available, and same-day and last-minute bookings are possible.