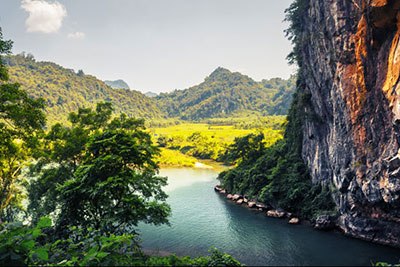 The national park of Phong Nha Ke Bang, one of the world's two largest karst regions, with hundreds of caves set in primary tropical forest, is still relatively untouched by mainstream tourism. Don't miss it, it is amazing!
The scenery of the park is stunning with its limestone peaks and lush forest, but the caves are just awe-inspiring. Imagine a cave big enough for a jumbo jet to fly through, and you start to get an idea of the scale. Phong Nha is now quite accessible; the regional airport of Dong Hoi is close by, with flights from Hanoi and Ho Chi Minh City, and good road and bus links.
What to do in Phong Nha?
Its all about the caves! There are full-day guided trips accessible to anybody, two-day/one-night treks through minority villages, with overnight stays in Hang En or Tu Lan Caves, and even full-on multi-day expeditions into the depths of Son Doong, the biggest cave in the world.
Aside from the caves, the national park can offer much in the way of fauna and flora - a day tour of the National Park is a great way to experience its beauty.